September 14, 2018
Posted by:

Andrew Gigacz

Categories:
Create flexible, accurate and efficient tables displaying different attributes for each of your product collections.
Transform the management of your product tables by creating specific column layouts directly in your browser.
Typically, designing product tables is difficult where different attributes are required for different collections. Displaying different numbers of columns for different collections also results in column widths not being consistent throughout your catalog.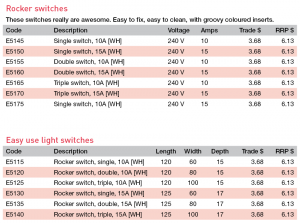 Make your tables smart
Utilising Producty's smart tables functionality, different attributes may be assigned to each collection and exported for use within a single template. Column widths may be set exactly without the need for rework in InDesign and columns may be set as left aligned, centered or right aligned. Empty columns will automatically be deleted when the product data is merged with the template, ensuring you get exactly the table layout you're expecting.

Create tables, flexibly
Producty's Smart Tables functionality greatly simplifies the task of designing product tables, even where varying numbers of columns for different collections is required.
No rework required
Column widths can be set and aligned without the need to rework them in InDesign.
We'll clean up the mess
Empty columns are automatically removed, and your end result is the table layout you wanted and expected.